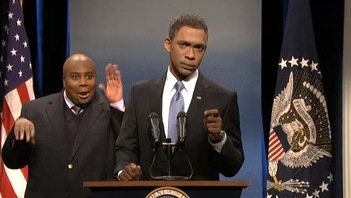 If you are scheduled to attend an interview in one of the
USCIS field offices in the United States
(most commonly, an adjustment of status or "green card" interview), and
if you don't speak and/or understand English fluently
, it would be wise to bring an interpreter with you.
An interpreter should be someone who is
sufficiently fluent in both languages
and who is
competent to interpret
from one language to another (English and your native language) --
not
like the guy in the picture who only pretends to interpret.
An interpreter doesn't have to be a certified or professional interpreter.
Most important qualifications of an interpreter are the following:
an interpreter is someone
who is impartial and unbiased, not prejudiced, not interested in the outcome of your interview, who is not your attorney or a lawyer, or other legal representative, or your attorney's paralegal, who is over 18 years of age, and who is not a witness in your case.
Some derivative beneficiaries may not be allowed to serve as an interpreter (for example, a spouse or a child), unless there is a "good cause" to excuse this restriction..
Before an interpreter is allowed to serve as an interpreter, a USCIS officer will have to make a determination and have him sign a Form G-1256.
Please keep in mind that an interpreter may hear or learn some personal and confidential things about you during the interview, and you might consider a professional impartial interpreter rather than a friend, a relative, a co-worker or an acquaintance if only because of confidentiality considerations.
Your attorney, paralegal or other legal representative can't be allowed to interpret during the interview, under the USCIS guidance (because they are not impartial to the outcome of the interview and have your interests in mind).
Please keep in mind that
USCIS has no obligation to provide a "free interpreter"
during the interview with some exceptions (for example, if it's an asylum interview). An applicant has right to have an interpreter present, but the government doesn't have to provide an interpreter for you. If you don't speak and understand English fluently, you should plan in advance and be ready to hire and bring with you a qualified interpreter.
On November 25, 2015, USCIS published this helpful
draft of a new memo
. This
document
provides detailed guidance as to who can and can't be an interpreter in USCIS office.