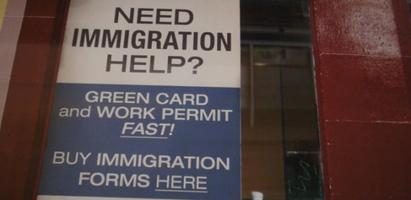 On November 20, 2014, the President announced a series of
executive actions
. However,
not all of these initiatives have been implemented, and USCIS is not accepting any DAPA or expanded DACA applications at this time. Beware of anyone who offers to help you submit an application or a request for any of these actions before they are available. You could become a victim of an immigration scam. If you need legal advice on immigration matters, make sure that the person you rely on is an attorney who is authorized to give you legal advice
. Only an attorney or an accredited representative working for a Board of Immigration Appeals-recognized organization can give you legal advice.
An immigration attorney can be licensed in any state because immigration law is federal law.
It's important to consult an experienced and knowledgeable attorney before submitting any immigration applications
.
The Internet, newspapers, radio, community bulletin boards and local businesses storefronts are filled with advertisements offering immigration help. Not all of this information is from attorneys and accredited representatives. There is a lot of information that comes from organizations and individuals who are not authorized to give you legal advice, such as "notarios" and other unauthorized representatives. The wrong help can hurt. Here is some important information that can help you avoid common immigration scams.
Here are some
examples of common immigration scams
:
**Telephone Scams**
.
Do not fall victim to telephone scammers posing as USCIS personnel or other government officials
. In most instances, scammers will:
request personal information (Social Security number, Passport number, or A-number);
identify false problems with your immigration record; and
ask for payment to correct the records.
If a scammer calls you, say "No, thank you" and hang up. These phone calls are being made by immigration scammers attempting to take your money and your credit card information.
USCIS will not call you to ask for any form of payment over the phone. Don't give payment over the phone to anyone who claims to be a USCIS official
.
If you have been a victim of this telephone scam, please report it to the
Federal Trade Commission (FTC)
. Learn more about telephone scams and telephone scammers' techniques by visiting
Federal Trade Commission-Telemarketing-Scams
.
**"Notario Publico"**
.
In many Latin American countries, the term "notario publico" (for "notary public") stands for something very different than what it means in the United States. In many Spanish-speaking nations, "notarios" are powerful attorneys with special legal credentials. In the U.S., however, notary publics are people appointed by state governments to witness the signing of important documents and administer oaths. "Notarios publico," are not authorized to provide you with any legal services related to immigration.
Please see the National Notary Association website "
What is a Notary Public
" for more information.
**Local Businesses who are not law firms and not attorneys or lawyers**
.
Some businesses in your community "
guarantee
" they can get you benefits such as a:
Visa
Green Card
Employment Authorization Document
These businesses
sometimes charge you a higher fee to file the application than even a licensed attorney (but will tell you that attorneys charge more "for the same work"
). They claim they can do this
faster
than if you applied directly with USCIS.
These claims are false
.
**Dot-com websites - operated by non-attorneys or people not authorized to give legal advice**
.
Some websites offering step-by-step guidance on completing a USCIS application or petition will
claim to be affiliated with USCIS. Many of these websites are scammers or fraudsters, often taking money for blank forms or minimal assistance without attorney supervision.USCIS has its own official website: www.uscis.gov
with:
Free downloadable forms
Form Instructions
Information on filing fees and processing times
Do not pay for blank USCIS forms either in person or over the Internet. You can download forms for free at www.uscis.gov.
Do not pay to a non-attorney (not a lawyer) for help with immigration paperwork, applications, affidavit. Oftentimes, they give you wrong advice and can potentially damage your chances of ever becoming a permanent resident (getting a green card
).
**Green Card Lottery or DV Lottery scams**
.
Once a year in fall, the
Department of State
(DOS) makes 50,000 diversity visas (DVs) available via random selection to persons meeting strict eligibility requirements and who come from countries with low rates of immigration to the United States. During this time or often around the year, it is common for immigration scammers to advertise in emails or websites that reference either the:
DV lottery
Visa lottery
Green Card lottery
These emails and websites often claim that they can make it easier to enter the annual Diversity Immigrant Visa Program. Some scammers even identify you as a DV lottery "winner
"
and ask for significant amount of money "helping get a visa". These emails and websites are fraudulent
.
The only way to apply for the DV lottery is through an official government application process (Department of State website, and only when it's open, during an application period which is usually in October-November only)
.
DOS does not send emails to applicants.
On or after May 1st
, you can visit the Department of State website to verify if you are actually a winner in the DV lottery.
If need help, consult a licensed attorney
(not one of the "green card lottery" websites).
**INS doesn't exist. It's been replaced by DHS and USCIS**
.
To this day, some local businesses, websites, "notarios" and individuals make reference to the Immigration and Naturalization Service (INS).
This agency no longer exists! If someone refers to USCIS as "INS", it's a sign that they are not an attorney, but rather someone unqualified with little knowledge in immigration matters.
INS was dismantled on March 1, 2003, and most of its functions were transferred from the Department of Justice to three new components within the newly formed Department of Homeland Security. U.S. Citizenship and Immigration Services (USCIS) is the component that grants immigration benefits. The other two components are U.S. Immigration and Customs Enforcement and U.S. Customs and Border Protection.
All official correspondence regarding your immigration case will come from USCIS. USCIS will communicate with you and your attorney by mail, by mailing you notices, approved work permit and green card through USPS (postal service).
If you need a legal assistance, we will be glad to help.
Our contact information is here
.
Read
here
.