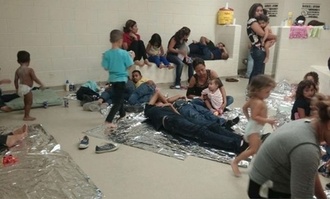 Obama administration's immigration policy faces a shake-up next week—and the court's ruling could reverberate in the 2016 presidential campaign.
At issue is
whether it's legal to essentially lock up women and children who have crossed the border illegally
, part of the administration's response to summer 2014
unaccompanied-minors crisis
.
Lawyers for some of these families sued the government, and last month, a
U.S. District judge in Los Angeles issued a tentative ruling
, a summary of which was obtained by
Newsweek
,
stating that the administration policy violates a settlement in a 1997 immigration case, Flores v. Meese.Judge gave the two sides 30 days to negotiate an agreement
that would lead the U.S. Immigration and Customs Enforcement (ICE) agency
to release the minors and their parents from the family detention centers where they are being held
.
Those 30 days run out on Sunday, May 24, 2015
.
The judge issued a
gag order
, so it's quite difficult to know whether or not there will be a real settlement by May 25, 2015.
Obama's detention and deportation of hundreds of thousands of undocumented immigrants remains a sore spot for immigrant rights and Latino activists, even after the president granted a reprieve, via executive order and under DACA program, to millions of young people who came to the United States as children and to those who have children who were born here and thus are American citizens (DAPA, which is not effective yet, pending another court case).
The practice of holding thousands of women and their children in detention for many months—it's just mothers and their kids in these detention facilities (in Texas and Pennsylvania), most of them fleeing dire circumstances in Central America—has prompted a particularly strong backlash.
Immigrant rights groups have been very
critical of this practice
.
Read more at
Newsweek
.