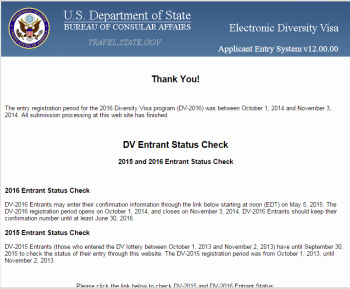 Did you apply for the 2016 DV lottery? It's time to find your DV-2016 confirmation number!
Starting May 5, 2015, y ou can check your DV-2016 Green Card Lottery entry status at
dvlottery.state.gov
.
Please keep in mind that Entrant Status Check online is the ONLY means by which you will be notified of your selection for further processing in the Diversity Visa lottery. You will never be notified or requested to pay fees by mail, email, phone -- ONLY through online status check.
If you have misplaced your DV lottery confirmation number, you can use the retrieval tool in Entrant Status Check to recover it at
https://www.dvlottery.state.gov/
If you have been selected as a WINNER
and need help with the
visa application process
(if you are outside of the United States and will apply at the US embassy or consulate in your country) or with
adjustment of status
(if you are residing in the United States
and eligible for adjustment of status
), you are welcome to contact our office for advice or legal assistance. We would be glad to help!