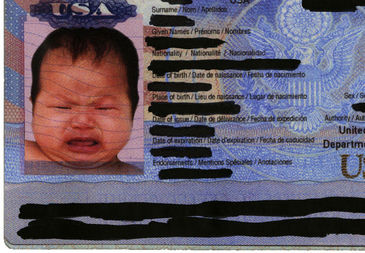 As reported by
Bloomberg Business News
, birth tourism from China to the US is booming. Although it's not illegal to travel to the U.S. to give birth, it's illegal to lie about the purpose of a visit when interviewed by American Consul or by immigration or customs officers at the US airport—or coach someone to do so.
If a woman says she's traveling to the U.S. to give birth, the consular and customs officers may request proof that she can pay for her hospital stay. (The same would be asked of anybody seeking medical treatment in the U.S.)
Department of Homeland Security and the IRS have been investigating the growing business of "birth tourism," which operates in a legal gray area, since last June. The industry is totally unregulated and mostly hidden.
No one knows the exact number of Chinese birth tourists or services catering to them. Online ads and accounts in the Chinese-language press suggest there could be hundreds, maybe thousands, of operators. A California association of these services called All American Mother Service Management Center claims 20,000 women from China gave birth in the U.S. in 2012 and about the same number in 2013. These figures are often cited by Chinese state media, but the center didn't reply to a request for comment. The Center for Immigration Studies, an American organization that advocates limiting the scope of the 14th Amendment, estimates there could have been as many as 36,000 birth tourists from around the world in 2012. Estimated fees paid by Chinese birth tourists to the agencies catering to them are around USD30,000 to USD60,000.
Department of Homeland Security declined to discuss the investigation because it is ongoing, but the agent in charge said: "Visa fraud is a huge vulnerability for the country. These women allegedly lied to come have a baby. Other people could come to do something bad. We have to maintain the integrity of the system."
Read the story
here
.