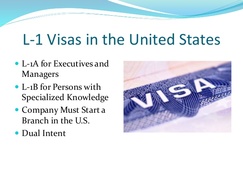 USCIS published a new
L-1B Adjudications Policy, effective date August 31, 2015.
This Memo is open for public comments. See
here
.
The L-1B adjudications memorandum, which
clarifies for USCIS officers how L-1B petitioners may demonstrate that an employee has specialized knowledge
, is posted online for a 45-day public feedback period. The memorandum will go into effect on August 31, 2015.
This policy memorandum provides guidance on the adjudication of the L-1B classification, which permits multinational companies to transfer employees who possess "
specialized knowledge"
from their foreign operations to their operations in the United States. It provides consolidated and authoritative guidance on the L-1B program,
superseding and rescinding certain prior L-1B memoranda
.
Upon final publication, the memorandum will update chapter 32.6(e) of the Adjudicator's Field Manual (AFM)."
USCIS, Mar. 24, 2015
.