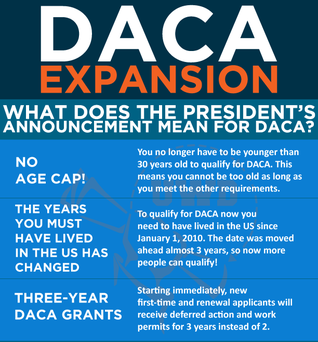 (As a practical matter, preliminary injunction means that
effective February 18th 2015, there will be no filings under new expanded DACA program, and DAPA is placed on hold
. Please be careful as to what applications and forms you file with USCIS. Consult a licensed experienced attorney and verify your eligibility before you apply.)
A Texas Judge has placed a preliminary hold on the two initiatives announced by President Obama last November that would expand the two-year-old Deferred Action for Childhood Arrivals (DACA) and Deferred Action for Parents of U.S. Citizens and Legal Permanent Residents (DAPA). These two programs would provide temporary relief from deportation to approximately 5 million undocumented immigrants currently living in the United States. The order issued overnight, and two days before the government was set to begin the DACA expansion, bars federal immigration officials from implementing "any and all aspects" of these programs.
The coalition of 26 states, led by Texas and made up of mostly conservative states in the South and Midwest, argues that Obama has violated the "Take Care Clause" of the U.S. Constitution, which they say limits the scope of presidential power, and that his executive actions would be difficult to undo once immigrants started to apply for deferred action. They also say Obama's order would force increased investment in law enforcement, health care and education.
Among those supporting Obama's executive order is a group of 12 states, including Washington and California, as well as the District of Columbia. They filed a motion with the judge in support of Obama, arguing the directives will substantially benefit states and will further the public interest.
A group of law enforcement officials, including the Major Cities Chiefs Association and more than 20 police chiefs and sheriffs from across the country, also filed a motion in support, arguing the executive action will improve public safety by encouraging cooperation between police and individuals with concerns about their immigration status.
Read more at:
http://news.yahoo.com/federal-judge-stalls-obamas-executive-action-immigration-052549363.html
*****
On February 17, 2015, USCIS had released their official statement in response to injunction granted by a federal judge in Texas, which effectively put a stop to DACA expansion (which was planned for February 18th 2015) and suspended DAPA (originally planned to start on May 19, 2015).
Since November 2014, USCIS had hired and trained additional 1,000 full-time employees in anticipation of a high volume of DACA and DAPA applications in 2015.
--------------------------
(via email):
Statement by Secretary Jeh C. Johnson Concerning the District Court's Ruling Concerning DAPA and DACA
"I strongly disagree with Judge Hanen's decision to temporarily enjoin implementation of Deferred Action for Parents of Americans and Lawful Permanent Residents (DAPA) and expanded Deferred Action for Childhood Arrivals (DACA).
The Department of Justice will appeal that temporary injunction; in the meantime, we recognize we must comply with it
.
Accordingly, the
Department of Homeland Security will not begin accepting requests for the expansion of DACA tomorrow, February 18, as originally planned. Until further notice, we will also suspend the plan to accept requests for DAPA.
The Department of Justice, legal scholars, immigration experts and even other courts have said that our actions are well within our legal authority. Our actions will also benefit the economy and promote law enforcement. We fully expect to ultimately prevail in the courts, and we will be prepared to implement DAPA and expanded DACA once we do.
It is important to emphasize
what the District Court's order does not affect.The Court's order does not affect the existing DACA
.
Individuals may continue to come forward and request initial grant of DACA or renewal of DACA pursuant to the guidelines established in 2012
.
Nor does the Court's order affect this Department's ability to set and implement enforcement priorities. The priorities established in my November 20, 2014 memorandum entitled "Policies for the Apprehension, Detention and Removal of Undocumented Immigrants" remain in full force and effect
."
-------------------------