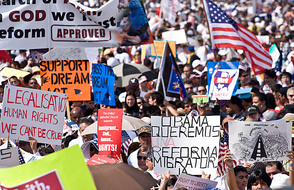 A group of mayors of led by New York Mayor Bill de Blasio and Los Angeles' Eric Garcetti are coming to the defense of President Barack Obama on immigration.
Twenty-eight (28) mayors have signed on
to file an amicus brief
this coming Monday in support of Obama's November 2014 executive actions on immigration, which are currently the target of a lawsuit from 25 states, led by Texas. The suit aims to block the president's
deportation relief policies
that will apply to some undocumented young people as well as undocumented parents of U.S. citizens and legal permanent residents -- specifically, allowing them to stay in the country and work legally. Republicans in Congress
are likewise seeking
to block the programs.
Obama is backed by a dozen states and the District of Columbia, all of which
filed an amicus brief
earlier this month in support of the executive actions on immigration. The states in that brief were California, Connecticut, Hawaii, Illinois, Iowa, Maryland, Massachusetts, New Mexico, New York, Oregon, Vermont and Washington, along with the District of Columbia. Their amicus brief argues that new immigration policies announced by President Obama in November 2014 are legal and will have a positive impact.
The mayors' defense will be similar, arguing that Obama's executive actions serve the public interest. They will ask that the policies be allowed to move forward despite the lawsuit against them. Along with de Blasio and Garcetti, mayors from Washington, D.C., Chicago, Atlanta, Philadelphia, San Francisco and St. Louis were among those who signed on.
The amicus brief comes after
a summit de Blasio hosted last month
to discuss implementation of Obama's executive actions.
Here's the full list of mayors, according to a press release:
The following Mayors have signed on to the amicus brief:
Mayor Bill de Blasio, New York, New York
Mayor Eric Garcetti, Los Angeles, California
Mayor Kasim Reed, Atlanta, Georgia
Mayor Stephanie Rawlings-Blake, Baltimore, Maryland
Mayor Byron Browm, Buffalo, New York
Mayor Rahm Emanuel, Chicago, Illinois
Mayor Steve Benjamin, Columbia, South Carolina
Mayor Nan Whaley, Dayton, Ohio
Mayor Michael Hancock, Denver, Colorado
Mayor Muriel Bowser, Washington, D.C.
Mayor Pedro Segarra, Hartford, Connecticut
Mayor Annise Parker, Houston, Texas
Mayor Steven Fulop, Jersey City, New Jersey
Mayor Paul Soglin, Madison, Wisconsin
Mayor Ras Baraka, Newark, New Jersey
Mayor Michael Nutter, Philadelphia, Pennsylvania
Mayor Bill Peduto, Pittsburgh, Pennsylvania
Mayor Charles Hales, Portland, Oregon
Mayor John Dickert, Racine, Wisconsin
Mayor Tom Butt, Richmond, California
Mayor Lovely Warren, Rochester, New York
Mayor Ralph Becker, Salt Lake City, Utah
Mayor Ed Lee, San Francisco, California
Mayor Gary McCarthy, Schenectady, New York
Mayor Ed Murray, Seattle, Washington
Mayor Francis Slay, St. Louis, Missouri
Mayor Marilyn Strickland, Tacoma, Washington
Mayor Mike Spano, Yonkers, New York
The following mayors have expressed their support and will sign on to the brief, pending final local approvals:
Mayor Karen Majewski, Hamtramck, Michigan
Mayor Virg Bernero, Lansing, Michigan
Mayor Tom Barrett, Milwaukee, Wisconsin
Mayor Betsy Hodges, Minneapolis, Minnesota
Mayor Greg Stanton, Phoenix, Arizona
Read more at: http://www.huffingtonpost.com/2015/01/23/mayors-amicus-brief-immigration_n_6532926.html